Accident(s) ~~ Sensational Haiku Wednesday
.

Growing (old) Pains



accidents happen
eh you said a what ahead
OMGosh Mack truck

accidents no-no
smashed fenders and broken bones
take the keys away

two broken kneecaps
accident prone watch your step
elevator's nice
wry smile with his curt retort
hard to teach old dog new tricks
Photos, Poem Copyright
© 2007, 2010 Jimmiehov
All Rights Reserved
Sign was found on the seaside road,

outside Troon, Ayrshire, Scotland (
link
)
(

page sized picture

)(

extra large

)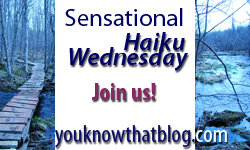 Sensational Haiku Wednesday is hosted by Jenn. Please click on the logo to the right for info about joining in and for more Haiku Wednesday participants.
Labels: Scotland, Seniors, Senryū, Sensational Haiku Wednesday, Signs, Tanka